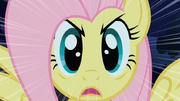 The Stare

Executed from the use of:

The eyes

Effect:

Intimidation, paralyzing, taming, Interrogation method, hindrance

Known users:

Known characters immune to this ability:
The Stare is Fluttershy's signature ability. It's a fierce glare used on the most dificult of opponents. Main cause for it to be used being when somepony "Pushes it". Burn taught himself this ability after watching Fluttershy perform it.
Ad blocker interference detected!
Wikia is a free-to-use site that makes money from advertising. We have a modified experience for viewers using ad blockers

Wikia is not accessible if you've made further modifications. Remove the custom ad blocker rule(s) and the page will load as expected.