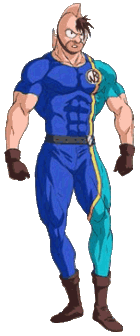 Junk you might wanna know

Name:

Mantaro Kinnikuman

Age:

16

Race:

Universe:

Kinnikuman

Roles

AMAC: Helper

TNG: Tag-along

Fighter Type:

Superhero, Wrestler

Nationality:

Affiliations:

Muscle League (1st Division Leader) The Phoenix Gang (Tag-along)

Side:

Resistance

Son of:
Wanted Poster Information

Desired State:

Don't care

Bounty:

1,000,000 Currency Units

Consideration:

Minority

Crime:

Assaulting an officer

Dos and Don'ts:

O: What you like to him.

X: Underestimate his strength, courage and intelligence.

Description:

None
Mantaro Kinnikuman (Nicknamed Kid Muscle) is the prince of Muscle Planet and the leader of the Muscle League's 1st division. He has a crush on Flo (Among other girls) and sees Jade as his rival (As his father did with his).
Ad blocker interference detected!
Wikia is a free-to-use site that makes money from advertising. We have a modified experience for viewers using ad blockers

Wikia is not accessible if you've made further modifications. Remove the custom ad blocker rule(s) and the page will load as expected.