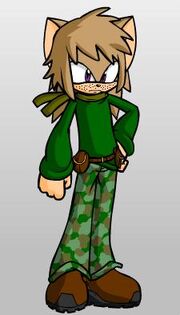 Junk you might wanna know

Name:

Sir Jaden Octavius Grujaka Von Bat, II

Age:

35 (Introduction Arc), 62 (Remainder of WHU), 85 (TNG)

Race:

Mobian (Bat)

Universe:

Sonic the Hedgehog

Roles:

Military Officer (WHU)

Ally (TNG)

Nationality:

Affiliations:

GUN, Rebels

Side:

Resistance
Sir Jaden Octavius Grujaka Von Bat, II is the main protagonist of the Introduction Arc of WHU. He now serves as a supporting character for the remainder of the series.
Role in the series
Edit
(More to come)
Ad blocker interference detected!
Wikia is a free-to-use site that makes money from advertising. We have a modified experience for viewers using ad blockers

Wikia is not accessible if you've made further modifications. Remove the custom ad blocker rule(s) and the page will load as expected.